Risk Global Domination Review
Risk Global Domination video game for PS2 was released for the Sony Playstation 2 in North America on November 4, 2003, developed by Cyberlore Studios and published by Atari. The core principles of playing the game Risk that we all know and love have not changed, and there are a few good reasons as to why playing this Risk video game version, Risk: Global Domination, will help you sharpen your skills in the original Risk board game. When playing Risk: Global Domination, no matter what variant you choose to play in the Main Menu, you have the option of tweaking the rules, such as how many armies for sets of cards a player is to be awarded. Find How to win every Risk game online.
Playing Risk Global Domination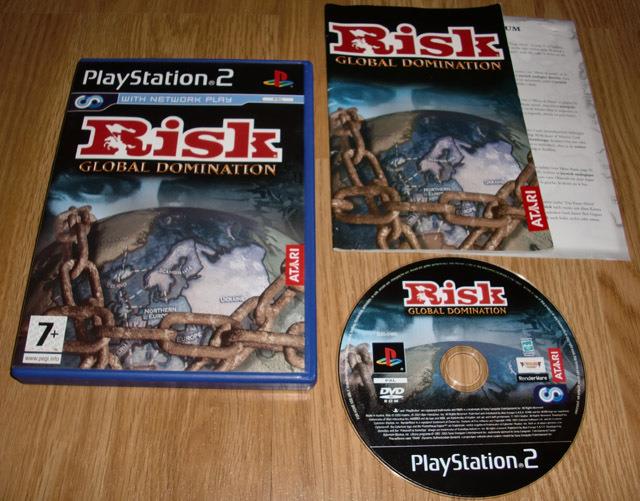 Playing a game of Risk Global Domination comes in 3 different forms; Classic Risk, Secret Mission Risk and Capital Risk. Classic Risk is the normal version of the Risk game that most players are familiar with as armies are randomly distributed across the globe.
In Secret Mission Risk, each player will be given a special assignment that they will need to carry out and complete in order to win. Secret missions are very specific and detailed and include a player needing to control 20 or 30 territories for a few turns, defeating a certain enemy, or even successfully defending a territory that is constantly under attack. In the Capital Risk game players are allowed to choose a territory to be their capital, and whoever is the first to capture every capital on the game board at once will win the game.
However, there is a word of warning that I have for avid Risk players regarding one feature that was the big selling point of Risk: Global Domination upon its 2003 release. While the idea of playing Risk online with other Risk enthusiasts is definitely enticing, you will not be able to connect to any online games using Risk: Global Domination. Even when trying to play online with an Ethernet cable through a router, it is guaranteed not to work.
Risk Global Domination Gameplay
Even though the online play feature of this Risk game is a total dud, players should overall get an enjoyable experience of playing Risk: Global Domination as the action that takes place in a game stays true to its board game roots. When a battle occurs, the 2 territories that are involved in this battle will be highlighted, and players will see animations of soldiers and cavalry units engaging into battle, and once the dice are rolled, explosions will occur to convey the effects of an attack.
If at any point you don't wish to sit through the turns the computer players take, then you have the option of activating the Fast AI and Fast Defend features, which will save you some valuable time while you play. AlI opponents that you can play against include the following famous conquering leaders in world history, such as George Washington, Catherine the Great, Charles George Gordon, Robert Clive, King Ferdinand VII, Lakshmi Bai, Napoleon Bonaparte, Chief Pontiac, Shaka Zulu, Simon Bolivar and Pangeran Diponegoro. While the idea of including such personalities of war is intriguing, they bring with them very limited in-game dialogue that is often repeated over the course of a single game. After some time the repeated dialogue may become annoying if you are just focusing on blitzing through the game.
Risk Global Domination Achievements Medals
One feature that does serve a purpose would be a chest that holds medals for all of your achievements for playing through Risk: Global Domination. There are a total of 34 medals to earn through playing this video game, and like the secret missions, each medal is earned by pulling off specific tasks. A few examples include winning 10 career games to obtain the Medal Jasonic Meret, conquering the 100th overall territory in your career to obtain the Order of the Liberator medal, and unlocking Dominato Veinti as a new AI opponent when you obtain 33 medals. Being an avid Risk player, if you intend to have a complete experience playing Risk: Global Domination, then obtaining every medal would serve as enough motivation.
The visuals of this video game version of Risk are pleasing to the eyes, but players should not expect there to be a wide variety of visuals to look at as the map of the world will always remain the same. The visuals are bright and vibrant and give the impression of a cartoon-like atmosphere. While this game is on the Playstation 2, it doesn't take advantage of advanced 3D graphics which the Playstation 2 became known for. Only the soldiers and the cavalry units are used for 3D graphics, so if Risk enthusiasts were expecting a thorough 3D experience while venturing through territories, then they may need to wait for another Risk video game to be released because this game doesn't meet those expectations.
According to www.metacritic.com, Risk Global Domination has mainly received an average score of 60 out of 100 in quality according to reviewers. There have been 6 mixed reviews, 2 positive reviews and 1 negative review on this game.
Conclusion
Playing Risk: Global Domination myself, I would highly recommend that you play this game along with at least one friend to extend the playing time of this game because you may not want to keep playing this game by yourself and against 5 AI opponents. A full party of 4 players would be the most ideal to make the experience of playing this video game version last.
Other variety of Risk game: